We are a group of keyboard enthusiasts who were tired of seeing the same generic keyboard options in the off the shelf market. So we put our heads together and formed Meletrix, to create the perfect board for you that requires no further tuning to achieve a great sound and typefeel!
| | | | |
| --- | --- | --- | --- |
| GOAL | £8,379 Flexible Goal | PLEDGED | £22,728 GBP |
| BACKERS | 109 | DAYS TO GO | 32 |
Project status dated : 23 November 2022
The Story

We first want to thank the multiple users who shared their comments, suggestions, and feedback with us! Your opinions are extremely valuable. The comments we got the most showed a preference for a 75-80% mechanical keyboard, and after much consideration and discussion, we decided to work on an 80% mechanical design, which is the ZOOM TKL you see today.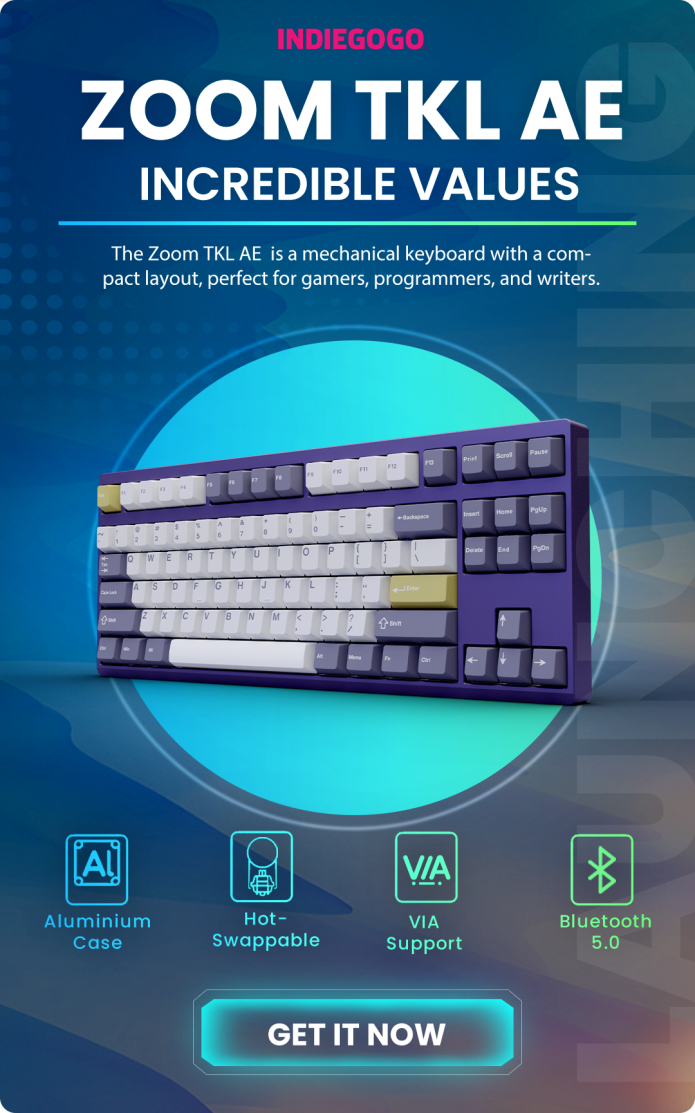 The Zoom TKL AE  is a mechanical keyboard with a compact layout, perfect for gamers, programmers, and writers.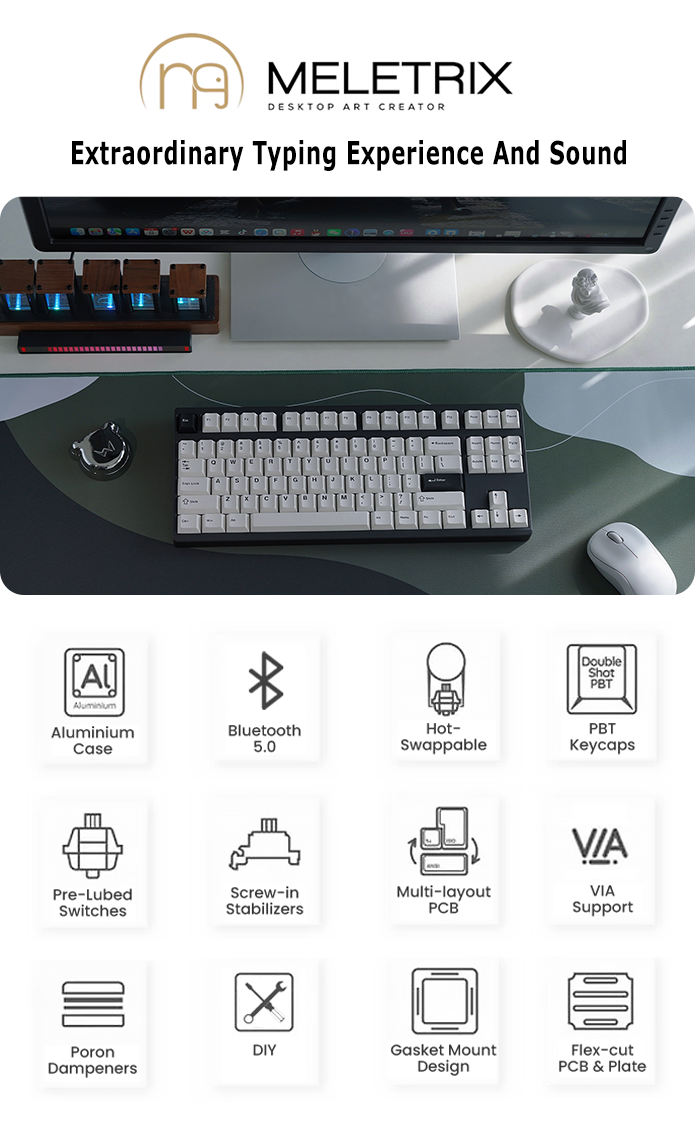 The ZOOM TKL is an 80% mechanical keyboard with new color variants, upgraded gasket mounts, and a custom witches. Of course, we've kept everything you love, including the amazing feel, hot-swappable options, and multiple colors to choose from.
Designed with only one goal in mind – to give you the perfect typing experience. Every detail of the keyboard has been well thought out, analyzed, and designed to perfection.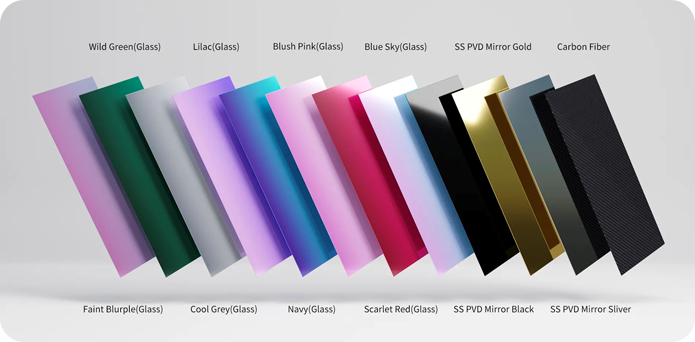 After selecting Perk, we offer 15 add-on options. You can also purchase an extra back plate to DIY your board.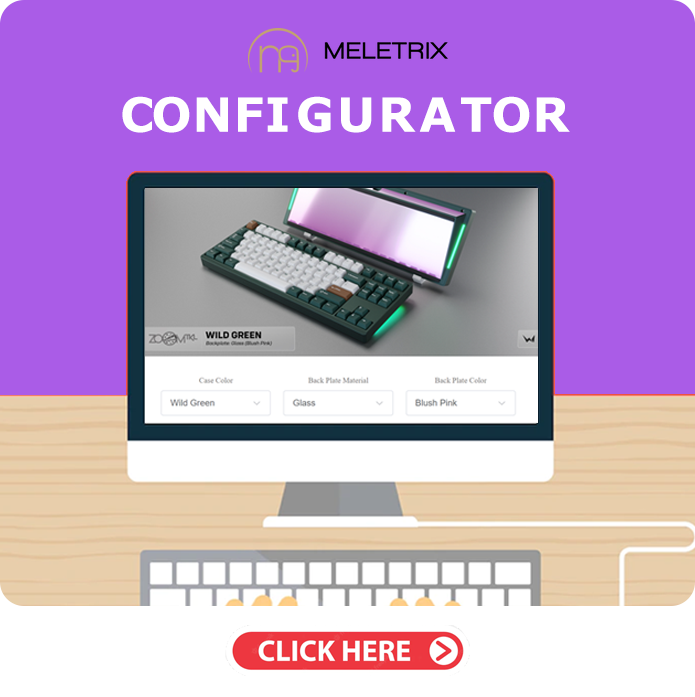 The ZOOM TKL is an all-aluminum, gasket-mounted 80% mechanical keyboard designed for both novice and experienced users.
We designed modular back plate for both the top and bottom for users to customize the look of their keyboard.
Of course, style matters! What could be more compelling than the ZOOM TKL keyboard on your desktop Settings?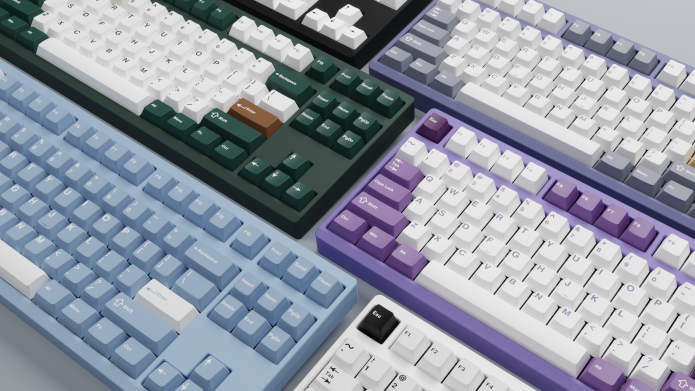 In addition, customization has been expanded to include back plate, switches, and keyboard case.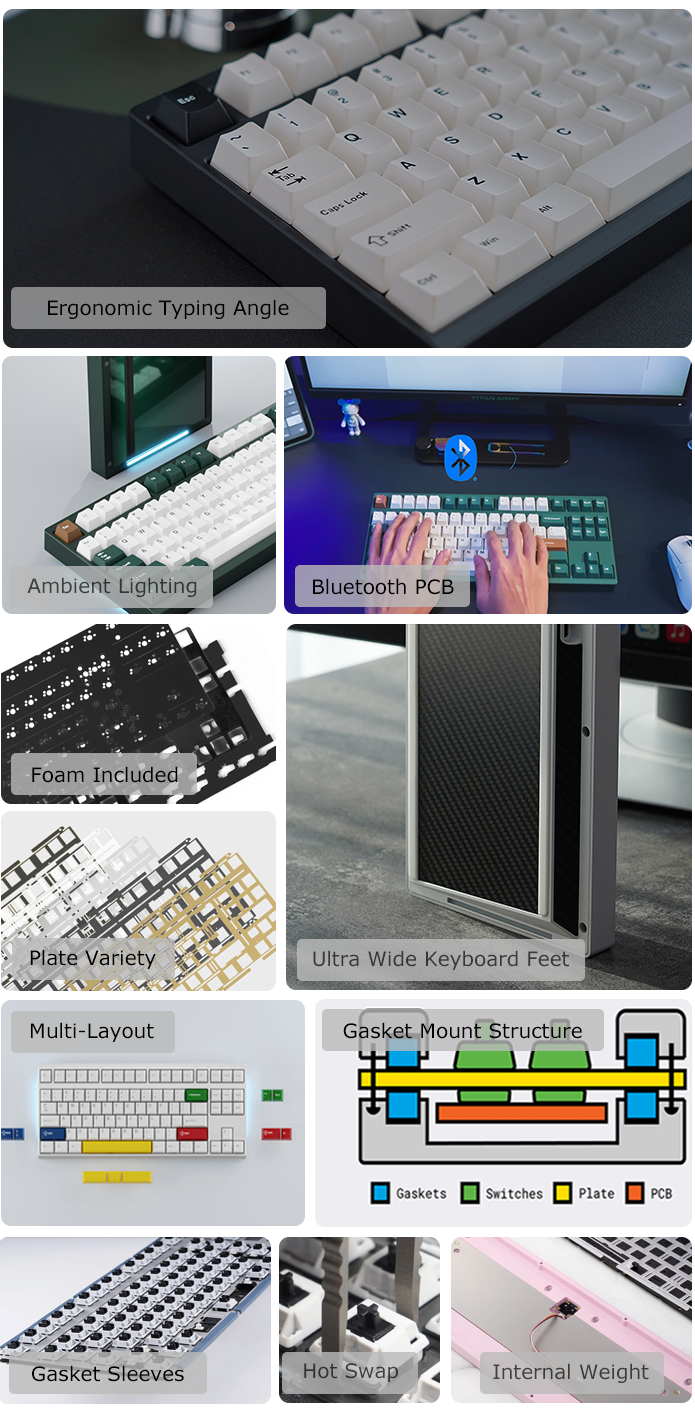 Zoom TKL PCB features the industry standard Kailh hot-swap sockets to mount switches. You simply brace the back of the PCB and push switches on, no soldering required! Go from a tactile keyboard to a linear one, in just minutes!
Changing switches is a breeze, you can switch from linear to tactile in just a few seconds, all on the same keyboard!

Fall in love with your keyboard! We made every detail, from the keycaps to the switches and more, customizable. No detail has been left untouched!

Everyone has their own preference for the feel and sound of their keyboard, and with us, you'll never have to compromise again! We offer 2 different switches styles for you to choose from, including the custom WS Switch and the special Swift Switch.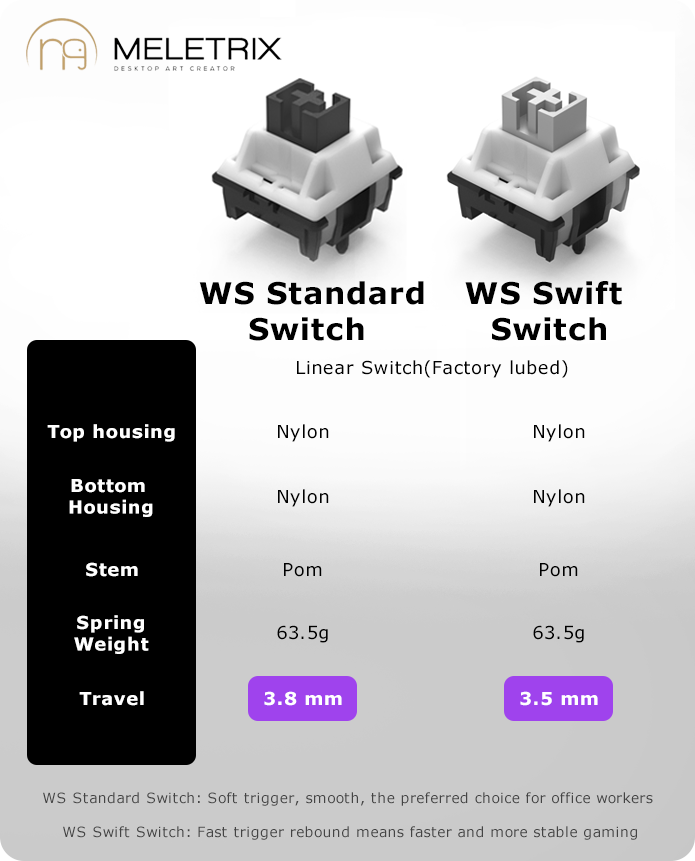 Changing switch is a breeze, you can switch from linear to tactile in just a few seconds, all on the same keyboard!
You'll be able to switch any key on your keyboard to any other popular mechanical switch type, including Cherry MX, Gateron MX, Kailh MX, and more! With ZOOM TKL, you can customize your typing experience to suit your needs.

Our design philosophy was to put the typing experience first – to make sure that all instead of only the things you need to type are on the keyboard and nothing else. We designed the keyboard at a 5° angle, lowering the height of the bottom edge of the keyboard for more comfortable typing.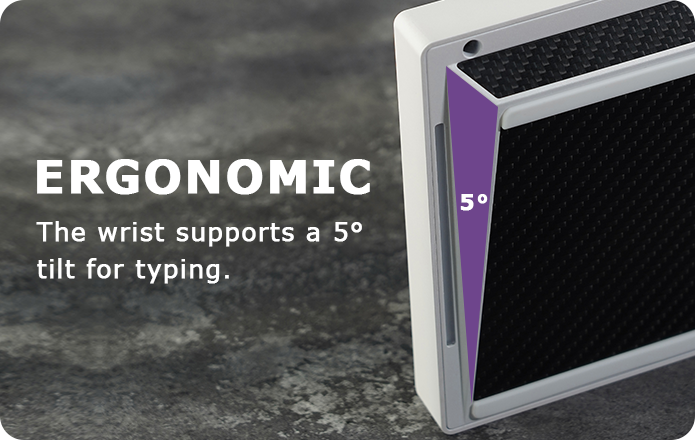 The ZOOM TKL is ergonomically designed to reduce hand fatigue and provide an efficient, comfortable typing experience for people who spend hours on the keyboard every day.
We have added additional distance compared to standard between the function keys and the alphanumerics to prevent accidental key presses.

This all-inclusive kit comes with PBT keycaps, a pre-lubricated switches, screw-in stabilizers, a flex-cut PCB and boards, and all the other components needed to build the board, providing a comfortable, premium mechanical keyboard experience.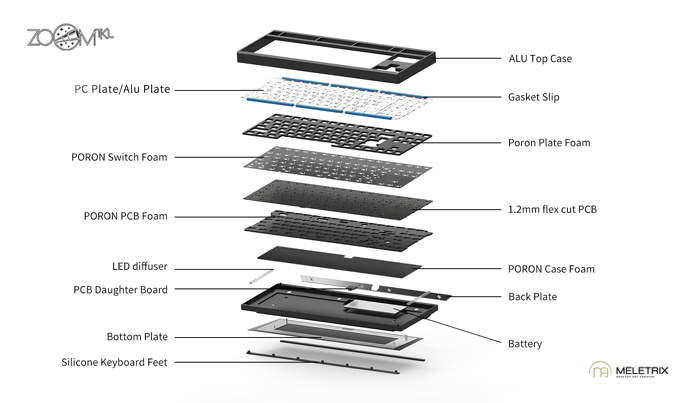 The use of a gasket isolation mounting construction delivers a soft, cushioned, and pleasing typing feel that won't strain your fingers even after hours of typing.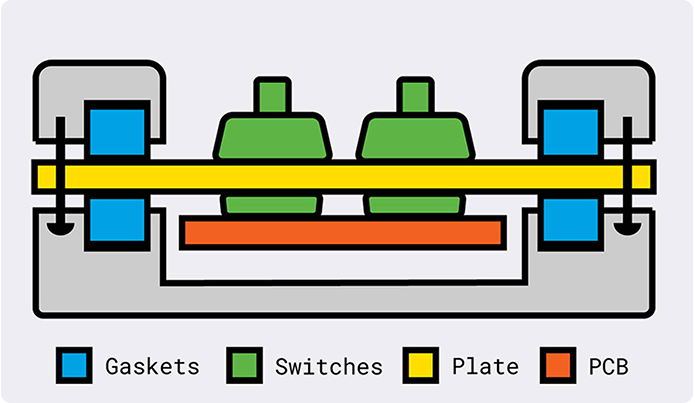 Compared to typical off-the-shelf tray-mounted keyboards, gasket mounted keyboards sound better and feel more even across the board.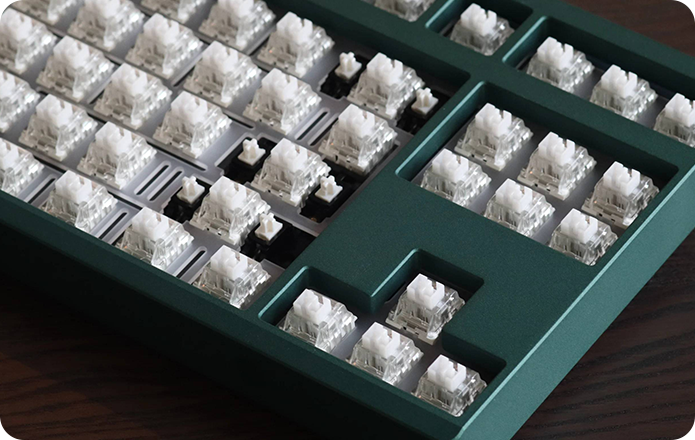 With polycarbonate plates, high quality Poron foam, and a flexible cut PCB, each key redefines "force" interactions. Typing feels sharp, but there is a soft bounce that makes each keystroke smooth and firm.
Every keystroke is crisp and clean, each bottom out feeling is soft and comfortable.
The carefully designed stabilizers are equipped with a high quality stabilizer pad. The factory designed stabilizer achieves a clearer and non-ticking sound, making the Zoom TKL sound more like classical music than heavy metal.
The feet of the keyboard are now longer and soften the sound more effectively. To achieve a stable and deeper sound, we changed the small round feet to a single long bar. The lower foot bar fills the four screw holes, making the keyboard more stable and further dampening the sound of the keys.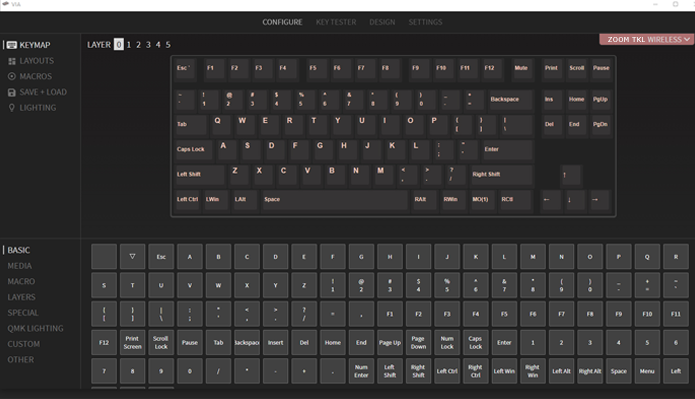 The Bluetooth PCB is fully compatible with VIA, the powerful GUI widely renowned for its customizability and ease of use. Remap any key on the keyboard on 4 different layers. Use built in powerful shortcuts and macros, or make your own key definitions!
The added function keys will improve your productivity at work and upgrade your gaming experience. Use the F13 key to customize your shortcut keys to be more efficient and get more done!

With the ability to switch between layouts, it's the perfect keyboard for people who want more out of their typing experience.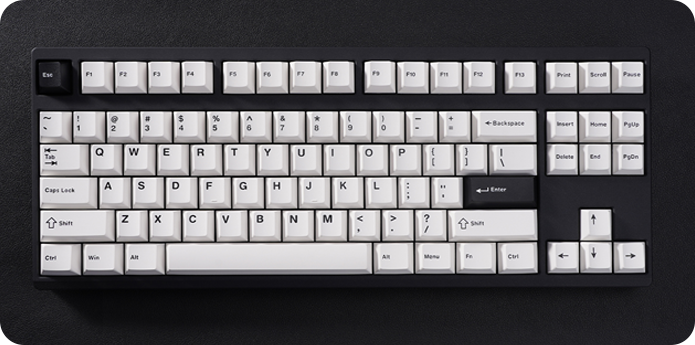 Unlike traditional keyboards, you are not stuck with just one layout on Zoom TKL! Change things up every now and then with split backspace, left shift, and spacebar! You can also switch between normal and stepped caps lock or ANSI.

Equipped with a Bluetooth 5.0 chipset, up to 3 devices can be connected simultaneously and you can seamlessly switch between screens with the press of a hotkey.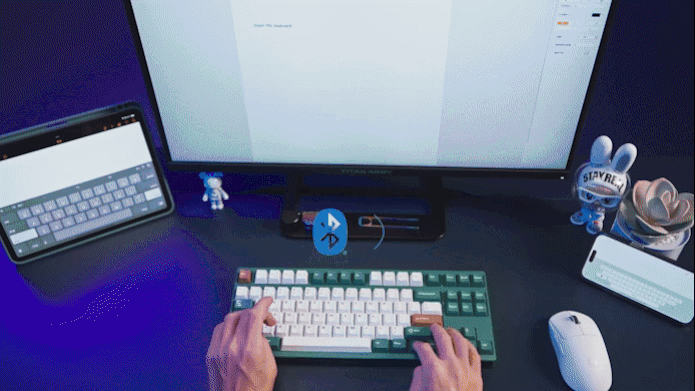 Easily use the Zoom TKL with your PC / Mac/tablet/phone. The PCB polls at 1000hz in wired mode, and the included battery lasts for weeks between charges. Customize any key with your VIA application on Windows, Mac, or Linux.
Enjoy lag-free gameplay even at longer distances. The keyboard is also available in 6 different colors to suit every gamer's style and needs.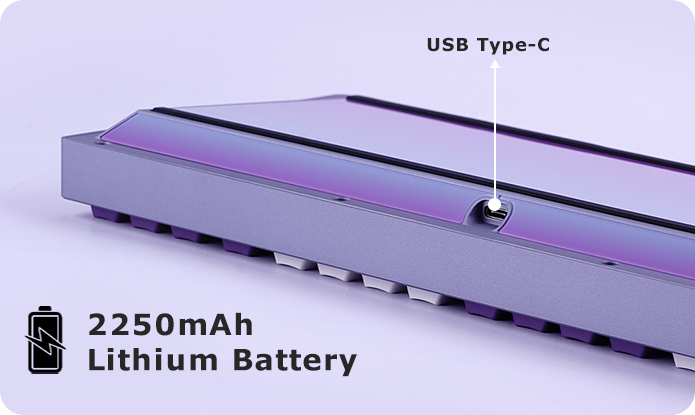 ZOOM TKL is a great tool for content makers. Your audience will never have to worry about their keyboards running out of power again. Wireless connectivity ensures that your audience can go anywhere without the added hassle of wires or delays. The long-lasting battery will allow them to focus on what's important.
For the first time, we've added ambient lighting on both sides of the keyboard, with multiple light effects to choose from and RGB ambient lighting to match your daily mood.

[FOFO Studio, Faint Blurple]
Lilac Zoom TKL :
Skyblue:
Sky Blue: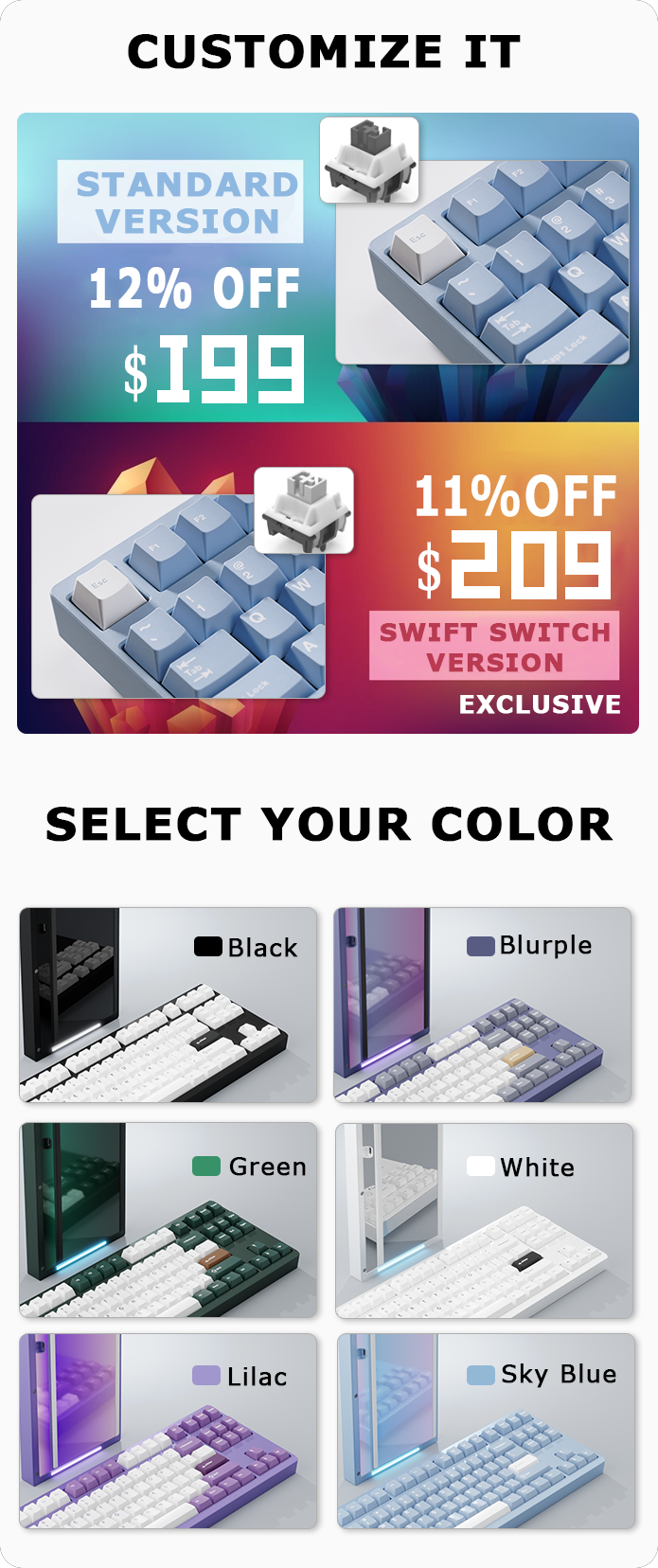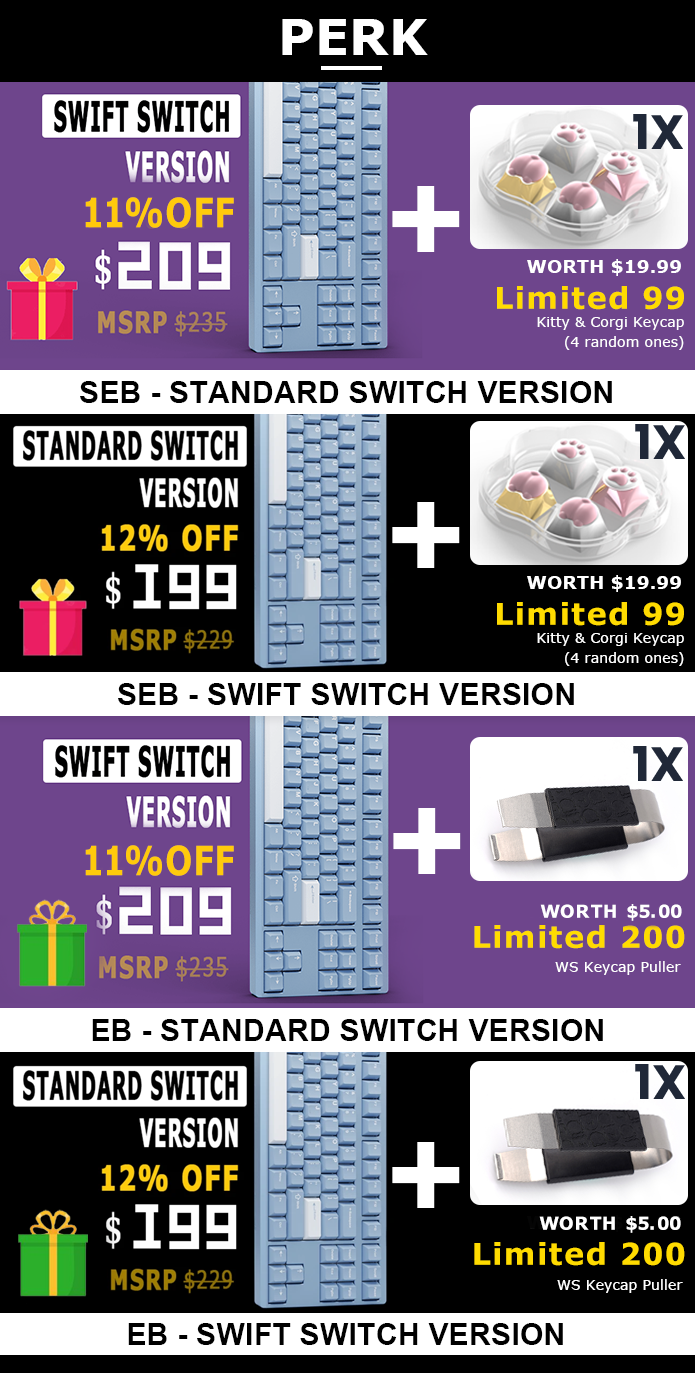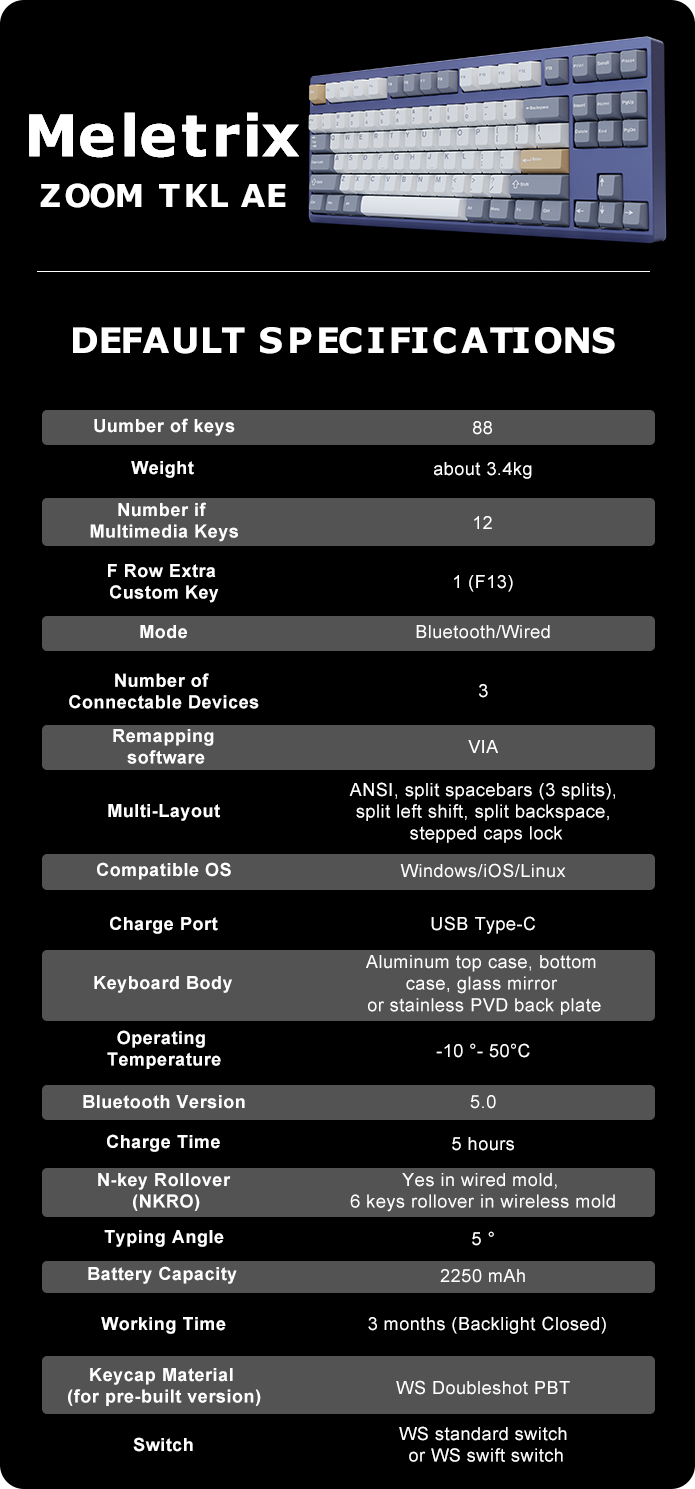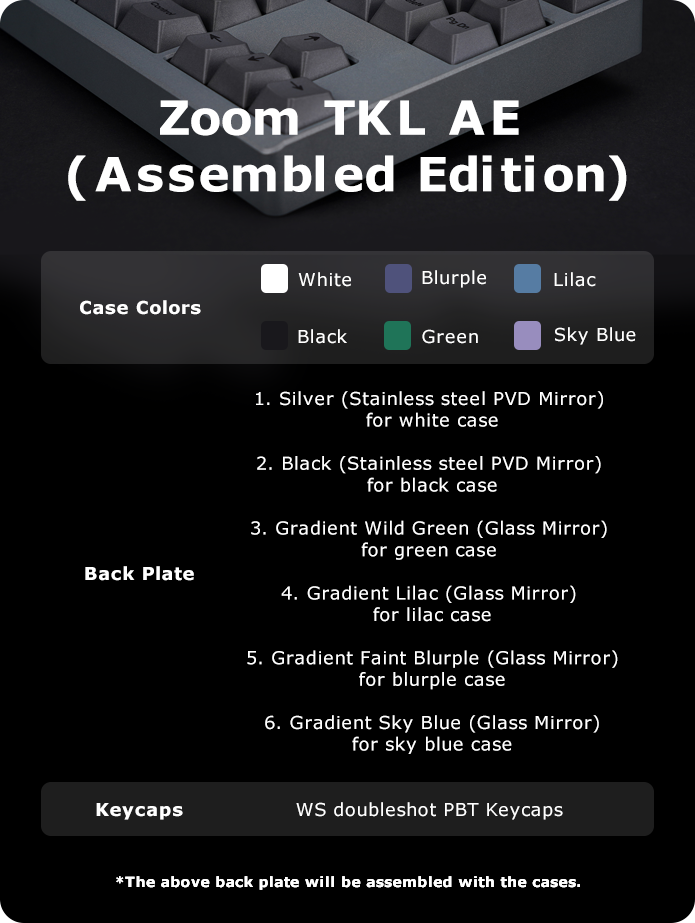 Shipping will be charged to our pledge manager after the campaign. Using the pledge manager, you will be able to confirm your rewards, confirm your address, and finalize your order.
Below are shipping estimates for some common geographical areas. Please note that these are estimates and the actual costs of shipping could change based on many circumstances.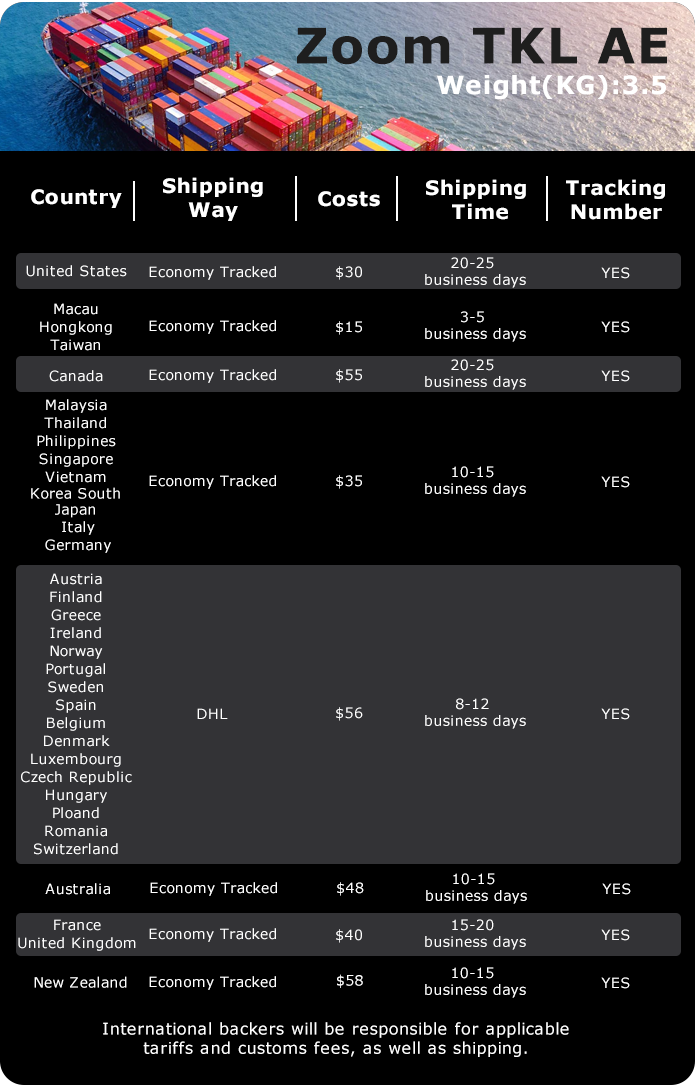 Your shipping fee will depend on the weight of your selected items and the shipping method specified and selected at checkout.
Meletrix is NOT responsible for any import tax or other customs fees.
Tracking number, "YES" means Packages can be traced to logistics information.
There may be some changes to the shipping way. If your shipping address belongs to a remote zone, we will contact you to charge the extra costs.

Meletrix was born with the influence of its parent brand Wuque Studio, a professional custom keyboard studio that has brought multiple popular boards to the keyboard enthusiast community. However, Meletrix differs from its parent brand by putting more focus on bringing enthusiast-level mechanical keyboards to the general population. 
From a group of people who are custom keyboard enthusiasts themselves, and who have already put tons of effort into the design, development, and manufacturing of premium custom keyboards, we really understand how to make a good board.
The Meletrix Zoom TKL, our 1st flagship board, is a real enthusiast-level board that is accessible to everyone, especially to those who haven't had a chance or don't have the time to learn or build their own daily driver. We hope you will like it, and keep following our projects 🙂

DISCLAIMER
Crowdfunding Campaigner Magazine has selected this project as part of the general selection process and has not been requested or paid commission to promote this project. The project is considered as relevant in this market and suggesting the project is worth backing due to its viability and potential for success.